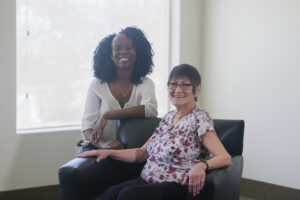 Stewart Pines Resident Services Coordinator, Brianna Hankins, is proud of the work she accomplishes because she loves her residents and helping them improve their lives as much as she can every day.
"As Resident Services Coordinators, we can help alleviate those minor stressors that will create a bigger change in their lives," she says.
Pat Wissler moved to Stewart Pines nearly five years ago and expresses boundless gratitude for the essential support Brianna provides. Moving on her own from California, she found a home at Stewart Pines that she made into her self-proclaimed "happy place," complete with a fully stocked craft room and mementos of her 42-year career as a middle school teacher. The only downside to her new home was the dreaded heat of the Las Vegas summers.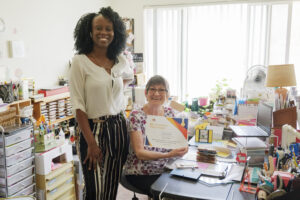 Living on a fixed income, Pat avoided turning on her air conditioning because she was afraid she couldn't pay the bill. When Brianna heard about Pat's situation, she sat down with her to fill out the forms to acquire energy assistance to cover her energy bill. Now, Pat can live in cool comfort during the hot desert days thanks to Brianna's initiative and expertise on supportive services.
Nevada HAND's Resident Services is founded on four pillars: Education, Health & Wellness, Financial Stability, and Community Engagement. Resident Services Coordinators meet one-on-one with residents to assess their needs and connect them with critical resources, programming, and information that offer them social, financial, educational, and health-related benefits. To support Nevada HAND's Resident Services to enable our residents to have the supportive services that allow them to live well and make their community "more than a home," consider following Nevada HAND, @nevadahandlv, on social media or donating a one time or reoccurring gift. CLICK HERE.