Affordable Housing in Nevada
Nevada faces a critical shortfall of affordable housing for low income individuals and families. Closing the gap and ensuring a steady pipeline of new affordable housing, as well as preserving existing affordable housing, is critical to the state's long-term success.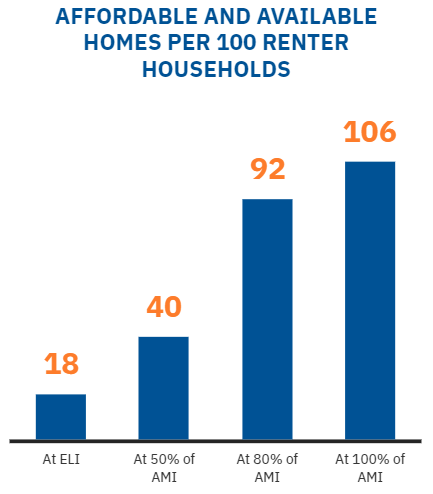 Source: National Low Income Housing Coalition
ELI: Extremely Low Income; AMI: Area Median Income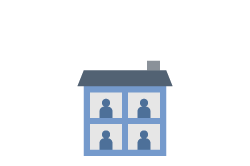 Renter households in Nevada that pay more than 30% of their income to rent.
Source: Affordable Rental ACTION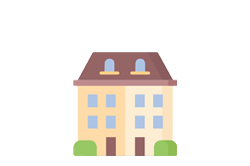 Shortage of affordable and available rental homes for extremely low-income renters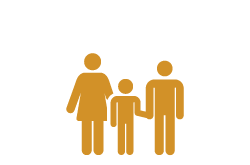 Percentage of extremely low-income renter households with severe cost burden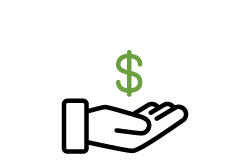 Annual household income needed to afford a two-bedroom rental home at HUD Fair Market Rent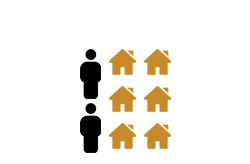 Affordable and available homes per 100 renter households
What is "affordable housing?"
The U.S. Department of Housing and Urban Development defines an "affordable home" as one that a household can obtain for 30 percent or less of its annual income.
When is a home not considered affordable?
If a low (or even median-income) household pays more than 30% of its income to rent and utilities, they are considered cost-burdened. Especially for low income households, elevated housing costs can force households to make difficult decisions, like whether pay rent or buy groceries, make car payments, fill a prescription, or take care of other necessary expenses. If a family is faced with an unexpected bill or expense, like a car repair or medical emergency, it can place them into a significant financial hardship that can spiral out of control, even leading to homelessness and further housing instability.
What does affordable housing do for a family and community?
Stable, affordable housing has benefits for every aspect of a community and a family. For a family or an individual, stable and affordable housing leads to better school performance and attendance for students, better overall health and health outcomes, more productive employees, and more social and civic engagement. 
Affordable housing can impact nearly every aspect of an individual's life – from their physical and mental health to educational outcomes. A stable, high-quality home also significantly impacts entire communities, making them safer, more cohesive, and more attractive for families, individuals, employers, and others.
In short, everyone benefits when communities have affordable homes.
I want to learn more about affordable housing.
Check out these great resources for learning more about the issue of affordable housing: