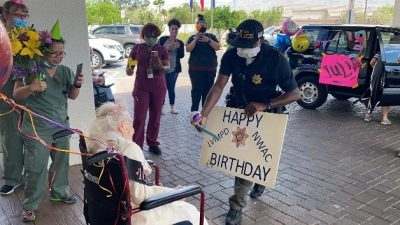 On Monday, May 11, resident Julia Martin celebrated her 100th birthday with the support of Nevada HAND staff, family, and community partners, including CompassionCare Hospice and Las Vegas Metropolitan Police Department (LVMPD). Several residents gathered outside Silver Sky at Deer Springs Assisted Living community, where Julia resides, to watch a parade of neighbors, residents, and the LVMPD wish her a happy birthday. Julia has lived at Nevada HAND's assisted living community since 2016, and she is a highly regarded and loved member of the community.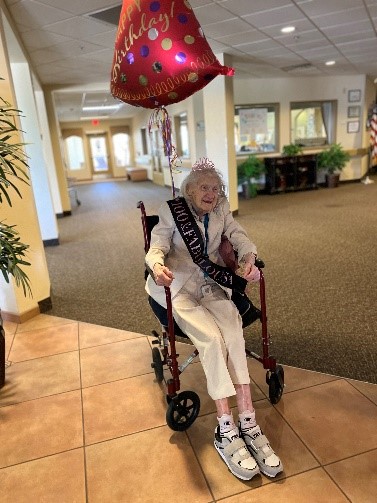 Julia was born on May 11, 1920 in Watertown, Wisconsin. Her entire family fell ill to tuberculosis, leaving her an orphan at a young age. She grew up to work as a nurse and eventually married husband George, with whom she had four children. Julia is now a widow, but she receives tremendous love and support from her children and extended family. Her son Rick Martin lives in Las Vegas and visits her daily. In an interview, Rick spoke about how dearly his family cared for Julia and how grateful he is for the Silver Sky at Deer Springs community. Julia moved into Silver Sky at Deer Springs on April 15, 2016 and has since come to enjoy walking around the community, watching TV, eating meals with friends, reading the paper, listening to music, and attending Catholic services.
Rick was in attendance of Julia's 100th birthday celebration and expressed his gratitude for everyone who orchestrated the parade. "Silver Sky Assisted Living here at Deer Springs is really tremendous," Rick said. "It's a good community with all people, all the folks that are residents here, it's just a big family. When I come in to visit, when I was able to, they are tremendous, and you know them by name and they really help the community."
Erin Leroux, Director of Wellness at Silver Sky at Deer Springs, was instrumental in the planning and organizing of the birthday parade for Julia. Team HAND and staff from CompassionCare Hospice decorated the lobby and parading cars, provided party essentials for residents, and offered sweet treats for the celebration.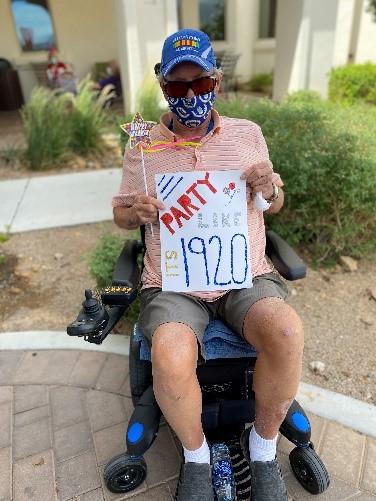 "Julia means the world to the staff and we are privileged to care for her," Erin said. "We knew that we needed to find some way to share this moment with her extend
ed family during this trying time. We reached out to one of our great community par
tners CompassionCare Hospice and coordinated this event. We had a wonderful turn out from the community and have had an abundance of people reaching out, asking about ways that they can help support us."
The staff at Silver Sky at Deer Springs continue to be creative in entertaining and serving residents. Though social distancing and other important health measures are keeping us apart, our team has found ways to promote unity within our communities and check in on our residents. From all of us at Nevada HAND, we wish Julia a very happy birthday, and we thank our team and partners for coordinating such a special event.