At Nevada HAND, we cherish our assisted living volunteers who take time out of their day to give back to our most vulnerable residents. We would like to recognize Mirko Barbesino, Silver Sky Assisted Living's pianist, whose musical talent serenades the ears of our senior residents every week.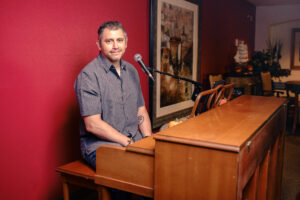 A pianist since he was five years old, Mirko Barbesino, brings decades of musical experience to Silver Sky Assisted Living. For an hour every Wednesday morning, our residents are transported by his lively songs that have them dancing and singing in their seats. Mirko's performances began less than a year ago, after he found Silver Sky when searching for volunteer opportunities online.
Originally planning to perform for children, Mirko's decision to play for seniors was inspired by his grandmother who encouraged and supported him during his childhood. After a 12-year battle with Alzheimer's, Mirko's grandmother passed away and he knew that he could honor her memory by playing for the residents at Silver Sky. "I see my grandma in their eyes, and I wish I was able to play for her. In some ways, I'm still playing for her," Mirko says.
Music is Mirko's life, and when he's not performing at a venue, he's in his studio at home composing music for documentaries, movies, TV shows, and commercials. He considers his musical talent to be a gift and loves to share it.  Born and raised in Italy, he has only been a Las Vegas resident for three years and wanted to connect with his community through volunteerism. When asked about his favorite part about volunteering at Silver Sky, Mirko explains, "Seeing the residents' smiles and the looks in their eyes. For me, it's normal to play the piano. It's my job, my therapy – my everything! For me, it's just an hour of my day and I can see in their eyes that they love it. I always say I'm walking out of here with more than I give."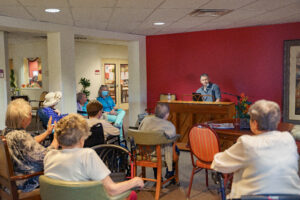 Mirko is grateful that he's found a space where he can share his passion for music. He describes his time at Silver Sky as "an hour of magic." He loves watching the effect his music has on the residents, especially one woman who can't help dancing in her wheelchair because she was a dancer when she was young. Volunteers make a difference in our residents' lives by creating a fun and caring environment where they can explore their hobbies and passions. Thank you, Mirko, for bringing us music and magic every week!
If you're interested in volunteering for Nevada HAND's assisted living properties, Silver Sky and Silver Sky at Deer Springs, reach out through our Contact Us Page and check the box "Assisted Living."