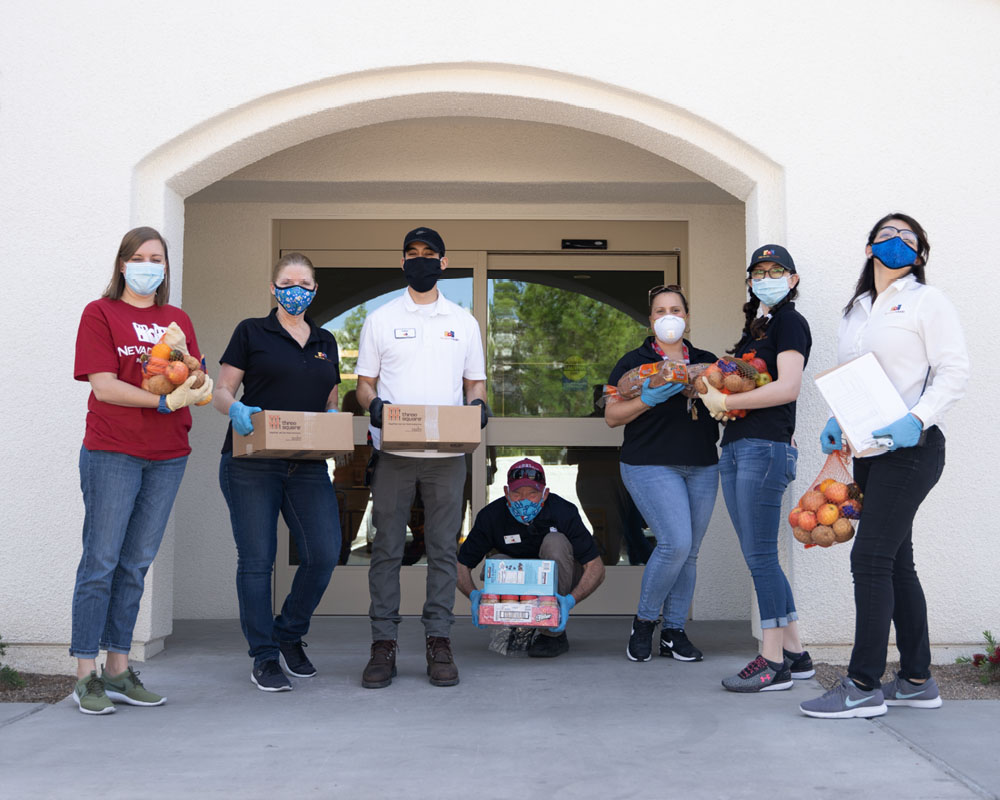 In April, Nevada HAND partnered with Three Square Food Bank to expand the Golden Groceries program into our independent senior communities. The Golden Groceries program provides seniors with healthy, nutritious foods like fresh produce, bread, and non-perishable items. Many of Nevada HAND's senior residents are on fixed incomes and are among the most vulnerable populations to COVID-19, so the Golden Groceries program helped us to mitigate food instability in our communities and encourage stay-at-home guidelines.
In eight weeks, Team HAND delivered two rounds of Golden Groceries to more than 2,000 seniors at 18 of our affordable housing communities; each delivery included one month's worth of groceries. In total, we delivered 80 tons of food, including 8,000 boxes of non-perishable food items, 4,000 ten-pound bags of fresh produce, and 4,000 loaves of bread.
Each week, Nevada HAND staff facilitated deliveries to our residents. In total, we had about 110 team members participate every Wednesday and Thursday, which not only brought our team together after spending so much time apart, but it also allowed us to live up to our mission of creating opportunities for residents to live well.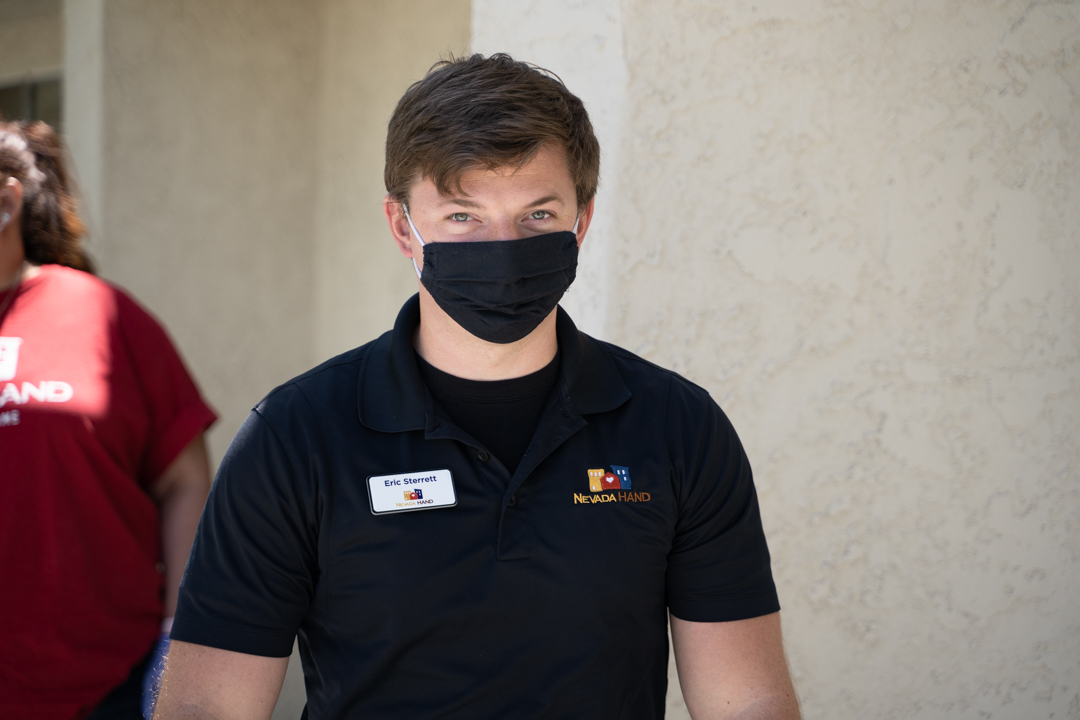 Eric Sterrett, Nevada HAND's Asset Management Associate, frequently participated in grocery delivery days. He believes the Golden Groceries program had a great impact on our communities, and he enjoyed the opportunity to reconnect with staff and residents he had not seen in months.
"Delivering food to our residents at no cost to them during this challenging time has relieved fear in two ways – for our residents who lost income during quarantine, they didn't have to worry about where their next meal was going to come from and it helped them remain safe in their units away from other people," Sterrett noted. "The residents could hear us coming when we pushed heavy carts of food through the hallways, and many of them would open their doors to thank us before we could even knock – it was wonderful seeing how grateful and how big of an impact this gift from Nevada HAND was making in their lives. Of course, the most enjoyable part was seeing the smiles on the faces of our wonderful and appreciative residents."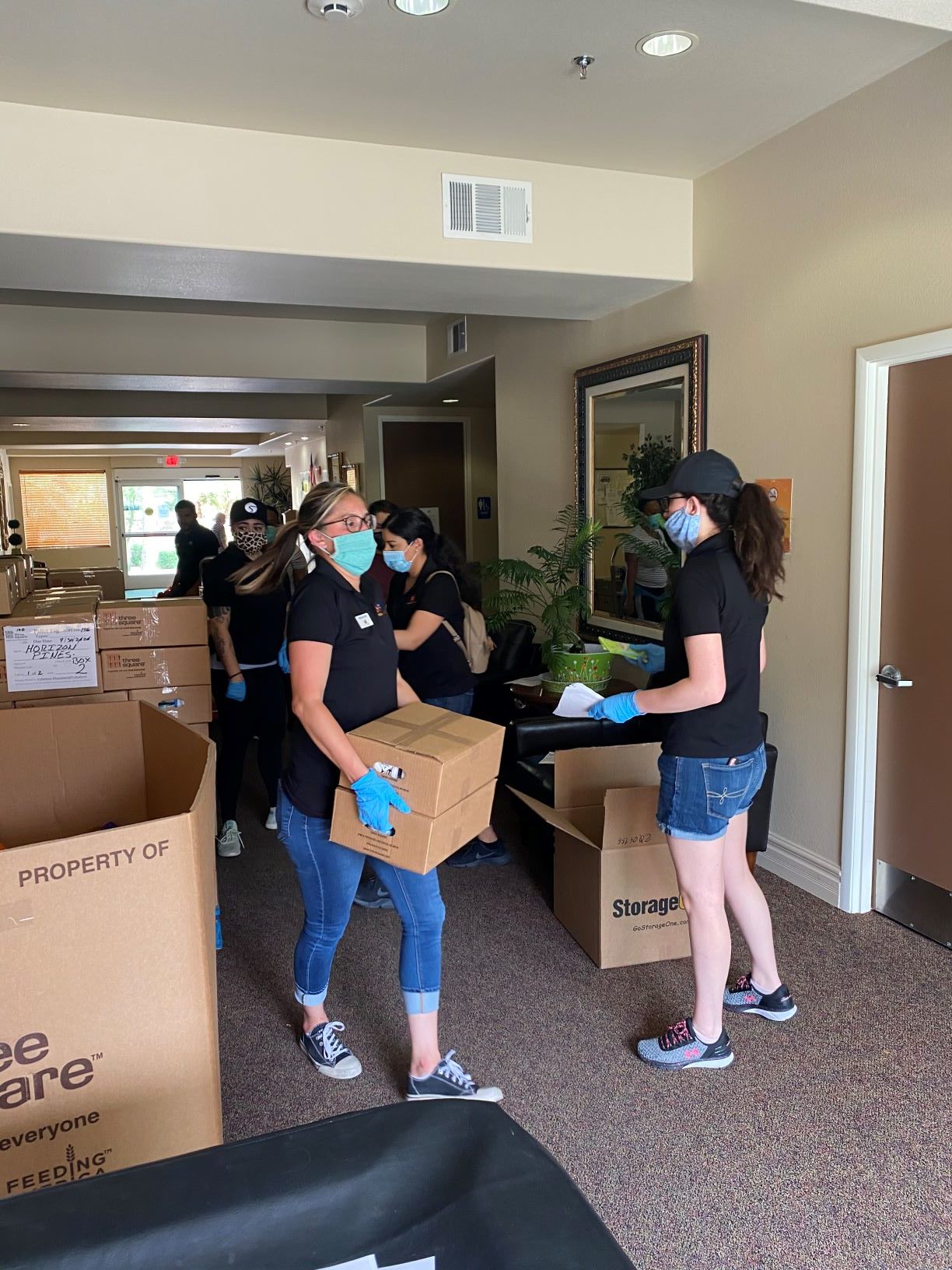 Shannon Smith is also an Asset Management Associate for Nevada HAND who dedicated her time to delivering Golden Groceries each week.
"I believe [Golden Groceries] let the residents know how much Nevada HAND truly cares about each resident. It helped so many residents who may have been afraid to go out or to ask for help. I believe it comforted the residents in knowing they are in good HANDS," Smith said. "During the deliveries, several residents would thank us over and over for the food and our hard work. They were very appreciative."
Each week, our site teams led distribution efforts, creating resident checklists and plans to expedite deliveries and make sure every resident was served. Our site teams demonstrated exceptional resourcefulness and care for our residents to ensure smooth, successful deliveries. We value their commitment to this program and the well-being of our communities, and many of our residents shared the same acknowledgements for their property teams.
Janean Gegen, one of Nevada HAND's senior residents, helped us create an unboxing video to show others what the Golden Groceries program offered recipients. Gegen expressed her gratitude for the program and Team HAND, saying "I am so thankful to them because it really means a lot that people will give to the people who are not able to get out and do things like that." For the full unboxing video with Gegen and Property Manager Jennifer Howray, watch this video.
Anita Kramer, another one of Nevada HAND's senior residents, addressed a letter to our site team at Capistrano Pines, expressing her gratitude for the Golden Groceries program and those who assisted deliveries. "Thank you for a lovely assortment of food, fresh fruit, carrots (beautiful!), vegetables, and a lot of shelf food," Kramer said. "I don't know who contributed, but it's nice to be on the receiving end. A huge THANK YOU to all who put it together."
We are grateful to have had the opportunity to serve our residents during the COVID-19 pandemic. Thank you to our partners at Three Square, our anonymous donor, our team members who helped out. For more information on the Golden Groceries program, please contact Three Square directly.