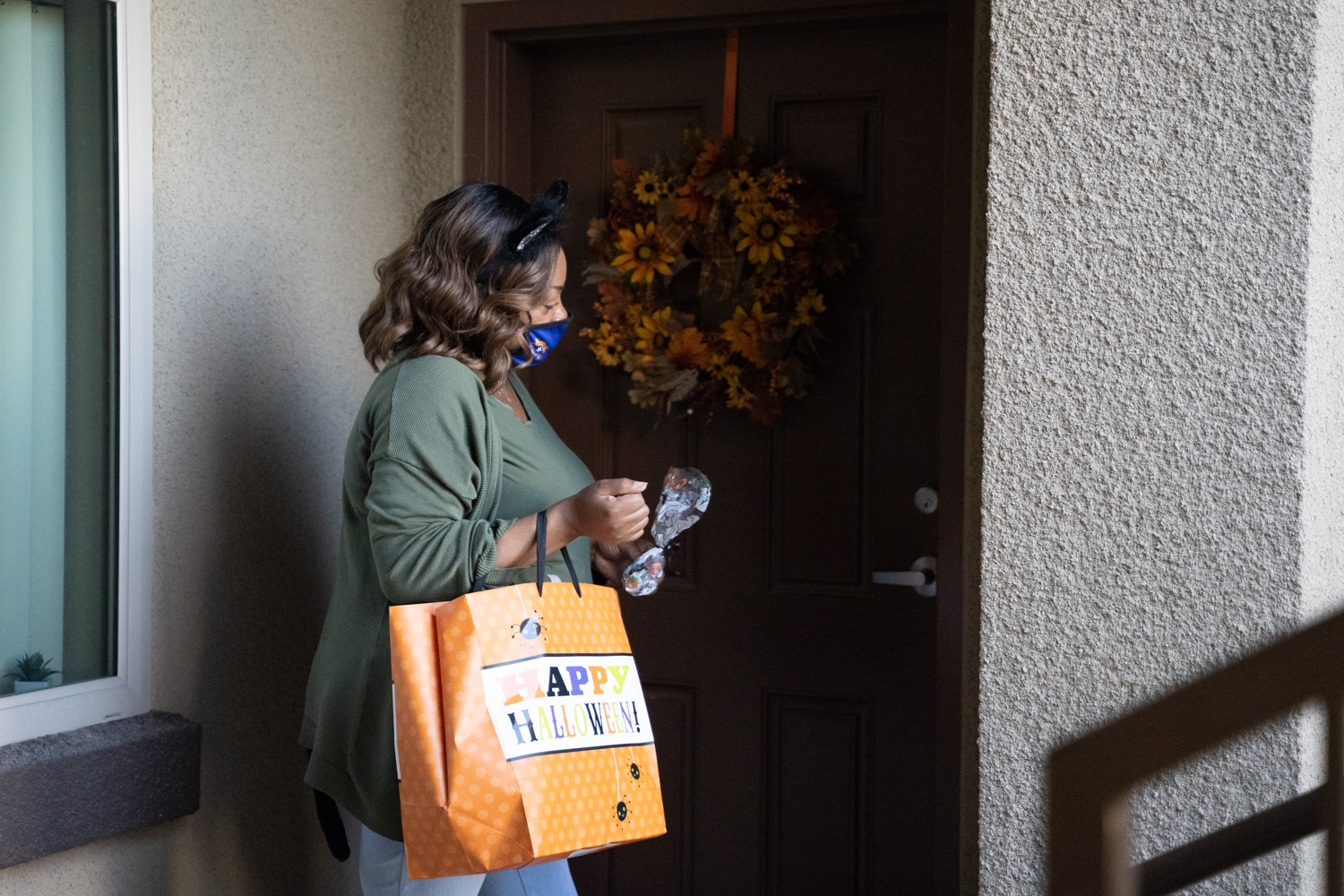 Team HAND is no stranger to holiday festivities,  especially when it comes to providing our residents fun, engaging holiday activities. Nevada HAND's Social Squad, our employee engagement crew, in partnership with our Property Management and Resident Services teams, hosted a Reverse Trick-or-Treat for all family and senior communities. Nevada HAND employees packaged bags of candy, dressed up in their best costumes, and delivered candy door-to-door. Since traditional trick-or-treating has created some public health concerns this year, Team HAND wanted to ensure that the Halloween festivities proceeded in our communities in the safest way possible.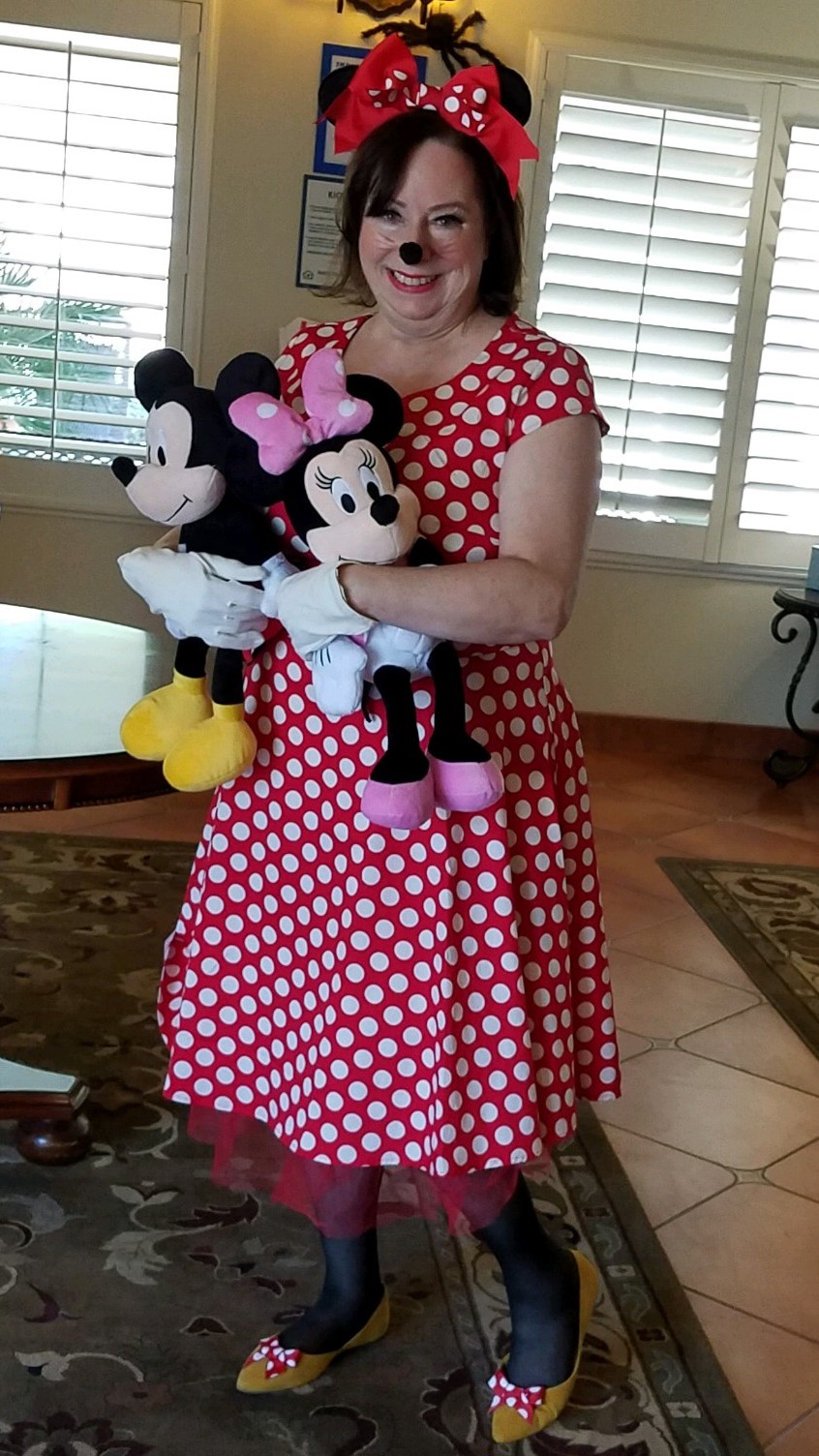 Employees dressed in their best costumes to show-off their Halloween spirit, making this a fun activity for our staff and our residents. We are grateful to our employee volunteers who made this day so special for our families and seniors, including Julia Allen, our Resident Services Coordinator at Decatur Pines. Julia dressed as Minnie Mouse to deliver candy to her senior residents. Property Manager Debbie Davis, Assistant Property Manager Paulisha Pryor, and Asset Manager Amanda Prybil joined Julia in dressing up and playing music as they delivered treats to our residents' front doors.
"Paulisha and I made little Halloween shoes, and we put candy and a keychain flashlight in each one," Julia said. "[We] had so much fun dancing down the hallways, knocking on doors, and bringing a little cheer to everyone. The residents loved it."
Janet Caudle, the Resident Services Coordinator at Annabelle Pines, wore one of Team HAND's best costumes – an inflatable person riding a dragon.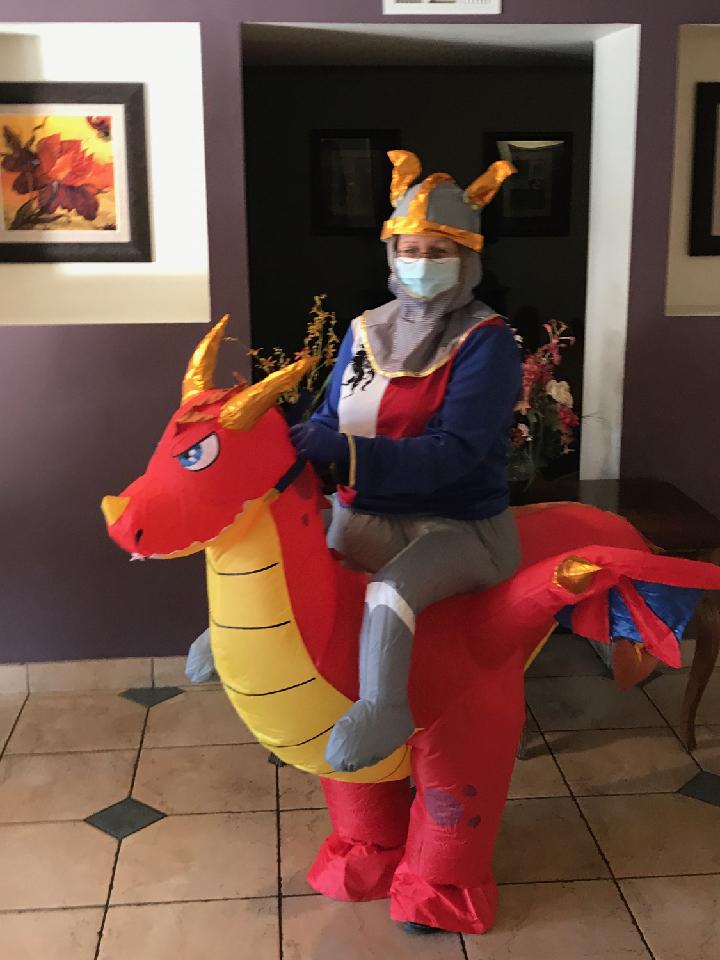 Janet and her team paraded the halls of Annabelle Pines, while being cheered on by residents who were grateful for such sweet treats.
"My favorite part was the resident response – the look of surprise on their faces and the laughter when they saw the staff in costume pushing the treat cart and acting silly," Janet said. "As we walked the hallways we danced and yelled out 'Trick or Treat' and the residents added to the parade atmosphere; they stood in their doorways laughing, clapping, and calling out to us. Annabelle has always hosted elaborate potlucks and parties and this event allowed us to celebrate and create that party atmosphere in a safe way."
Team HAND continues to find ways to connect with residents in the safest ways possible. We are looking forward to the upcoming holiday seasons and cannot wait to bring more activities like this to our residents.