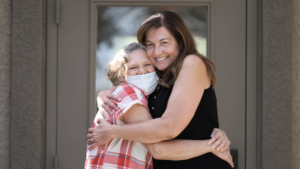 When Apache Pines resident, Sandra, first met her Resident Services Coordinator, Rebekah, she was immediately drawn to her friendly spirit and unwavering urge to help others.
"She has made my life so much better and is always willing to help you when you need her." – Sandra, Apache Pines resident
As Rebekah and Sandra worked together to connect her to critical resources, like utility assistance, food assistance, and even a free tablet, a genuine friendship began to develop. Rebekah would assess Sandra's needs during one-on-one meetings and help organize and complete the paperwork required to provide her with the tools for future stability. Outside of these meetings, Sandra texts Rebekah frequently throughout the week to share tidbits about her life and express appreciation for her assistance in changing her life. Through Rebekah's hard work and desire to change lives, she provides more than a home to all Apache Pines residents, like Sandra.
"Providing more than a home means creating an environment where people connect with one another, where they have resources and opportunities that are enriching, add to their lives, and enables them to be and feel like they're part of a community." – Rebekah, Apache Pines Resident Services Coordinator
Learn more about Rebekah and Sandra in our Resident Services Spotlight here.
Nevada HAND's Resident Services is founded on four pillars: Education, Health & Wellness, Financial Stability, and Community Engagement. Thanks to community partners like Southwest Gas, our Resident Services team continues to create opportunities to live well for more than 7,900 Southern Nevada children, adults, and seniors. To support Nevada HAND's Resident Services to enable our residents to have the supportive services that allow them to live well and make their community "more than a home," consider following Nevada HAND, @nevadahandlv, on social media or donating a one time or reoccurring gift. CLICK HERE.