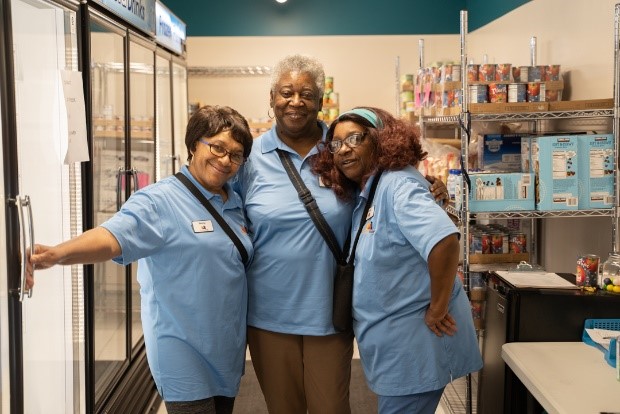 Last year, Nevada HAND received a $1 million gift from a generous anonymous donor. Over the course of a year, this donation has allowed us to partner with T hree Square Food Bank to build, stock, and operate food pantries at three of our senior communities. In March of 2019, we introduced the food pantry concepts to our residents at Bonanza Pines, surveying them on their food needs and answering questions about pantry operations. By the end of June 2019, we successfully opened pantries at Bonanza Pines, Rochelle Pines, and Stewart Pines.
Our food pantries have supplied residents with fresh fruits and vegetables; frozen proteins, including fish, chicken, and turkey; and several other shelf-stable items. Residents are given pantry access every week, and we have seen an influx of use over time.
Rosie Coleman, Nevada HAND's Pantry Manager, has been involved in our food pantries since day one. She oversees all pantry operations and staff, and her involvement in the planning, developing, stocking, and operating has not gone unnoticed by our team and our residents. She recognizes the need for food programming and how important food resources are to the health, wellness, and stability of our independent senior residents.
"Many of our residents scrape by month to month," Coleman said. "Many of them only receive $15.00 a month on SNAP. The pantries help by giving them additional items they may have had to skip due to lack of funds. Knowing they can get food every week means one less worry for them. Food insecurity is real!"
Following the initial opening of our food pantries, Nevada HAND made a call for resident volunteers to facilitate food pantry operations. In a short period, our organization transitioned the resident volunteers to official Nevada HAND Resident Pantry Support employees, many of whom are celebrating one year of work with our organization this April. We have been honored to recruit residents workers that care for their communities, neighbors, and, above all, our mission to create opportunities to live well.
Penee Walton, a Rochelle Pines resident who primarily works at the Bonanza Pines pantry, has demonstrated exceptional care for our facilities and our residents. Her involvement with the food pantries has inspired our team, and she truly demonstrates what it means to be a curious, respectful, resourceful, and integrous member of Team HAND. Walton was one of the first residents to work in our pantries, positioning herself as one of our most knowledgeable and trustworthy employees to date. She has made TV appearances, spoken with our leadership team and board members, and contributed hours of time to the smooth operation of our pantries.
"Working in the food pantry has brought joy and purpose to my life," Walton said. "It's been years since I've actually held a job. But knowing that I'm helping and giving back to seniors gives me a reason to get up in the morning. Just to see the smiles on their faces and the thank-yous that they give us back lets me know that we are appreciated. This job means the world to me."
As a resident of our Rochelle Pines community, Walton is also eligible to receive food from the food pantry at her home. Since its opening, Walton has been using the food pantry each week to bring fresh produce, meats, and other shelf-stable food into her kitchen. "Having a food pantry in our residencies helps us seniors know that we don't have to wonder if we have to choose between paying bills or buying something to eat," Walton said.
Elizabeth (Liz) Taylor, another veteran pantry employee, works in our Stewart Pines and Bonanza Pines pantries. Taylor began as a resident volunteer last year and has since become one of our most valuable and respected employees. She, too, is dedicated to our mission and well-being of her fellow residents.
"It gives me something to do, and I enjoy that. It's hard when you get older and retire, but this gives me something to look forward to," Taylor said. "I feel really good about [the pantries]. I get to meet people and I'm doing something to help others and myself."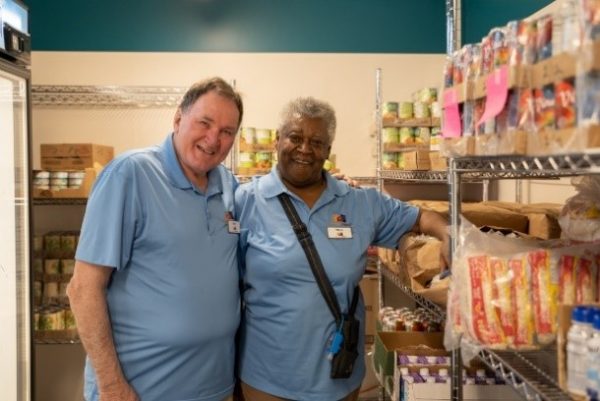 All of our Resident Pantry Support employees work with Rosie to improve our pantry operations and assist our residents in need. Taylor said she admires her boss for making the workplace a fun and enjoyable environment. Rosie has worked closely with our Resident Pantry Support staff to build strong, hardworking teams of residents. She noted that "giving the residents an opportunity to work an earn a little extra money is awesome! They are wonderful story tellers! They are a blast to work with and learn from."
Nevada HAND has onboarded several other Resident Pantry Support employees to work in our food pantries. Thanks to our generous anonymous donor, we are continuing food pantry development, allowing us to connect seniors with this valuable food program and recruit more residents to work in our pantries.