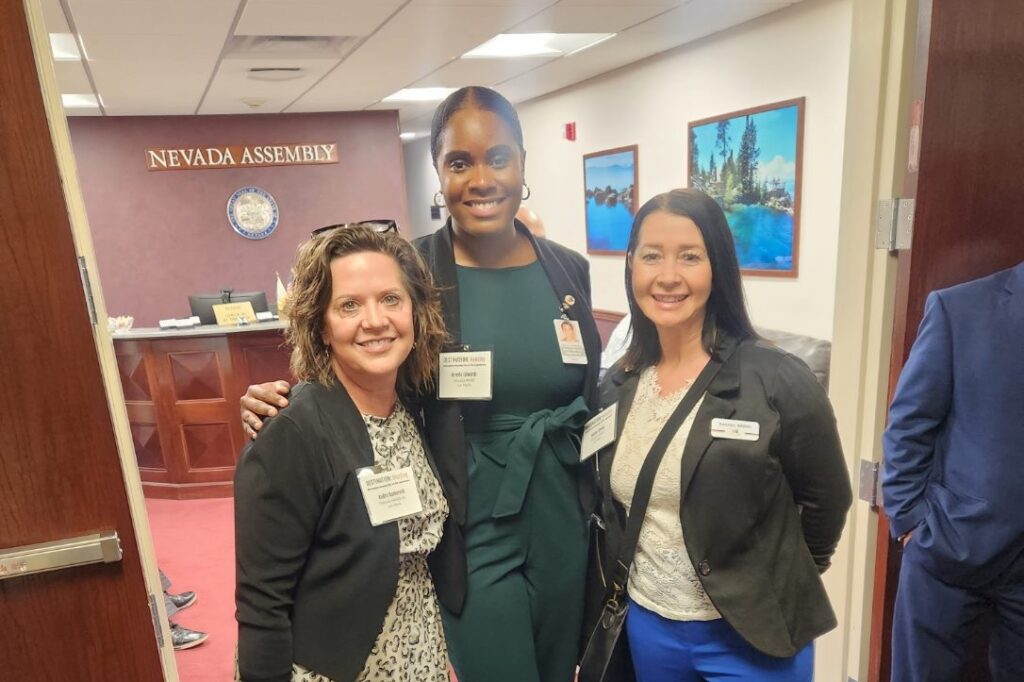 "… if you're doing it the right way, you can really effect change for important public policy by developing something that both sides of the aisle can come together and say, 'this is good for Nevada.'"
—Arielle Edwards, Director of Government Relations
Nevada HAND's Director of Government Relations, Arielle Edwards, recently returned from the 82nd Legislative Session in Carson City. During the session, and year-round, Ms. Edwards works to champion legislation and policies that support desperately needed affordable housing options in Nevada.  
Tell us about your job; what is unique about this work?
In simplest terms, I am an advocate, helping ensure Nevada HAND's voice and expertise are part of ongoing conversations about laws and policies that impact affordable housing. My job is to keep the issue of affordable housing top of mind for elected officials who can effect real change, and to provide information and guidance to support legislation that removes barriers not just for Nevada HAND, but for the entire affordable housing industry. We must work together to build our way out of this crisis.  
Outcomes from the Legislative Session are perhaps the most visible aspect of my work, but Government Relations is a year-round role that requires deep knowledge of and investment in community. I educate a broad range of stakeholders, legislators, and other elected officials about issues in affordable housing, and perhaps most importantly, I foster strong relationships. In my role, it's essential to understand the needs and goals of my own organization, my industry, my community, my fellow lobbyists, and especially elected officials: who they are, who they represent, and how we can align in support of a stronger Nevada. I work hard to lead with empathy, curiosity, and authenticity to build trust and encourage collaboration.  
What was one of the "wins" from this Legislative Session?
We really moved the needle with AB 62, a tax exemption bill that will support the development of affordable housing by creating a more efficient process and allowing more regulatory programs to trigger a tax exemption. Property tax exemption is essential to the financing of affordable housing; you can't sustainably develop and build without it. Previously, a project had to receive HOME dollars (a HUD investment partnership program) to get a property tax exemption. HOME is a federal program and is largely dependent on Congressional choices. AB 62 allows more affordable housing programs to trigger a property tax exemption, effectively eliminating a major obstacle to building more affordable housing.  
How does a bill move from concept to the Governor's desk?
The process is fascinating, and with AB 62 we were in the conversation from the start. We helped develop the language of the bill, pitched it at various housing forums, garnered community support, and worked alongside the bill sponsor (the Housing Advisory Committee). We were able to shepherd this bill through each stage of the process – from a committee hearing where the bill was presented, to providing support testimony, and then we saw it voted out of committee and sent for an assembly floor vote where it received unanimous support. From there, the bill went to the Senate and once again got voted out of committee, sent to the floor, and voted off the floor unanimously. Finally, it was sent to the Governor's desk and signed into state law, reinforcing our efforts towards more affordable housing in Nevada. 
During the session, you spend a long time away from home and work long hours. What makes it worthwhile? 
First, I'm truly proud to work for this organization and to support this mission. I am part of an incredible team at Nevada HAND, and I want to especially thank our VP of Corporate Affairs, Wally Swenson, and our CEO and President, Audra Hamernik, for their expert partnership and support. 
The Legislative Session is a unique experience because you're in Carson City for 120 days with many different stakeholders who have priorities encompassing all the major issues that impact Nevadans, such as food insecurity, housing, local government issues, education, etc. All these people have one main objective: to go up to Carson City and advocate for their cause.  
There is a lot of negotiation, and a lot of compromise, to help develop comfort and understanding with even those legislators and lobbyists who may have concerns about your bills. But if you're doing it the right way, you can really effect change for important public policy by developing something that both sides of the aisle can come together and say, 'this is good for Nevada.'  
A bill is a living document that impacts lives. On the other side of every single bill are real people who will be affected—will it make their lives better? It's an honor to do this work with Nevada HAND because, just like legislators who are going up to the State Capitol to advocate and fight for their constituents, I'm going up there as well to fight for more housing for low-income families and seniors. It's a worthy fight.