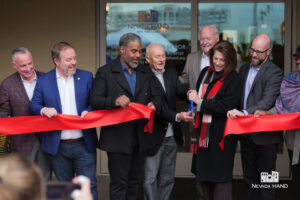 On Thursday, November 3, 2022, our team at Nevada HAND proudly celebrated the grand opening of our newest and largest affordable housing community, Decatur Commons. Decatur Commons is a mixed-use community providing 480 units of affordable housing to low-income families and seniors (240 family units and 240 senior units). The community was designed on a 20-acre in-fill site in the heart of Las Vegas. The units will serve individuals and families making between 30% and 80% of the Area Median Income (AMI). This project was developed in partnership with George Gekakis, Inc.
"We are thrilled to be introducing Decatur Commons to the Southern Nevada community as we continue to address our states' affordable housing crisis by building as quickly and as responsibly as we can," says Nevada HAND's President & CEO, Audra Hamernik. "A Nevada HAND community is 'more than a home' for our 8,000 residents because our affordable homes are coupled with life-enriching supportive Resident Services. On-site Resident Services helps residents climb the ladder of success and provides them with the opportunity to access resources and programming for financial stability, education, health and wellness, and community engagement."
Gathering in front of Decatur Commons Senior's portico, over 100 members of the Las Vegas community witnessed the ribbon cutting of the new affordable housing complex. Notable speakers included U.S Senator Catherine Cortez Masto, Mayor Carolyn Goodman Nevada Treasurer Zach Conine, Congressman Horsford, Senator Chris Brooks, Sallie Dobler from Vegas Chamber, Councilman Brian Knudsen, members of the Offices of Governor Sisolak and U.S Senator Jacky Rosen, Paul Buckland from Wells Fargo, Dr. Mae Worthey-Thomas from the Nevada Housing Division, and Bonita Jefferson, a Decatur Commons resident.
Afterwards, guests were invited to tour apartment units and amenities where they learned that a home is more than four walls and roof over your head. Through our Resident Services Programs, we provide "More Than A Home" to our residents by connecting them with life-enriching resources in Education, Health & Wellness, Financial Stability, and Community Engagement. We work with them on a one-on-one basis to give them the tools they need to live well.
Thank you to Arizona Charlie's for being the Lead Sponsor of the Decatur Commons Grand Opening event. Their support and partnership make the celebration and ribbon cutting of Decatur Commons possible.