Now that the COVID vaccines have made way to Southern Nevada, we have recognized many of our seniors residents struggling to access COVID vaccination resources and clinics. Thankfully, with the help of our community partners and local government, we have been working around the clock to schedule transportation for our senior residents to access COVID vaccination clinics and bring COVID clinics right into some of our communities.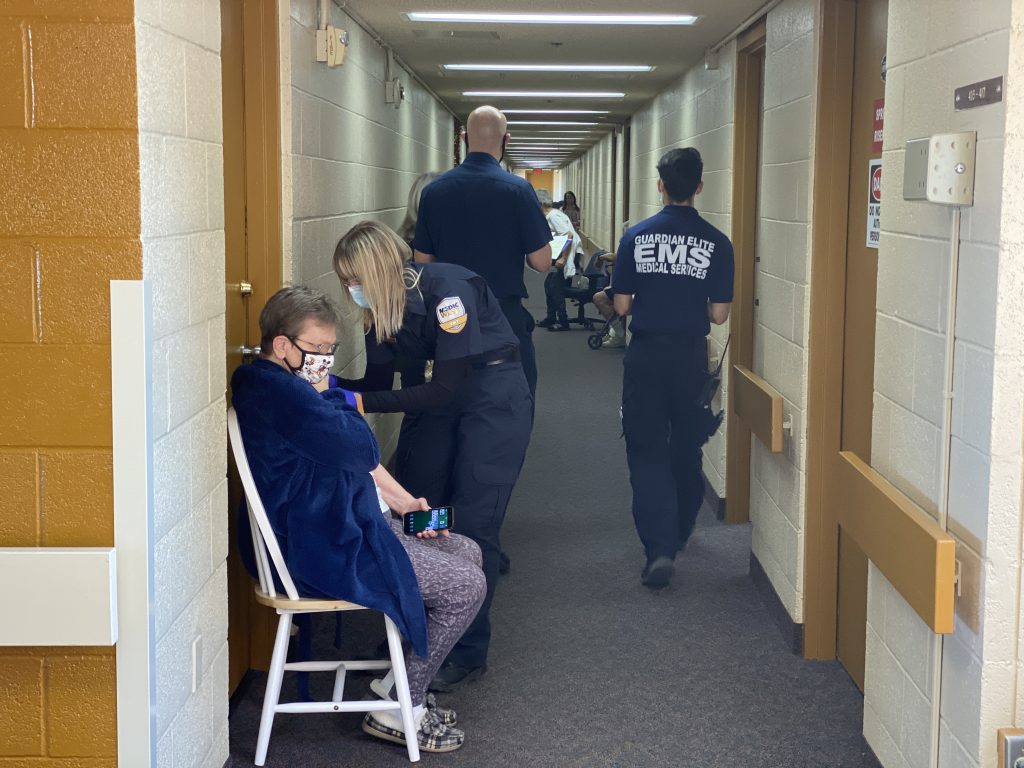 In March, Las Vegas City Councilman, Brian Knudsen, and the City of Las Vegas Fire Department hosted an onsite, door-to-door COVID vaccination clinic for our residents at Stella Fleming Towers. Fifty-three residents received the first dose of the vaccine, and their second doses were scheduled for the end of the month.
"I've had the pleasure of working with Nevada HAND for many years prior to my role as a City Councilman and have been able to continue that relationship through the details," Knudsen said. "I am continuously impressed with the services and amenities they offer residents."
In addition to Councilman Knudsen's COVID vaccination clinic, the City of North Las Vegas and the City of North Las Vegas Fire Department hosted a COVID vaccination clinic at our Rose Gardens senior community. Councilwoman Pamela Goynes-Brown, Fire Chief Joseph Calhoun, Councilman Isaac Baron, and others facilitated the clinic, vaccinating approximately 80 of our senior residents. One of our Rose Gardens residents and Nevada HAND Board members, Marie Wilson, received the first dose of her COVID vaccine during this clinic, and she expressed exceptional gratitude for the opportunity. Chief Calhoun, Councilwoman Goynes-Brown, and Board member Marie Wilson shared their thoughts on the clinic – you can check out their interviews on our YouTube channel!
In February, the City of Las Vegas and the Southern Nevada Health District also helped our teams at Bonanza Pines and Monsignor C.T. Shallow arrange transportation to local COVID vaccination clinics for our senior residents. We are so proud of our team for working to coordinate transportation for some of our most vulnerable residents.
We are proud to not only provide these COVID vaccination clinics and resources for our residents, but also for Team HAND. Our assisted living clinics have completed all their vaccination clinics for staff and residents, and we had an incredible turnout. Over 90% of our staff and residents at our assisted living communities received their vaccines, which has allowed us to reopen some of Silver Sky and Silver Sky at Deer Springs' amenities.
The Southern Nevada Health District opened vaccines for all Nevada HAND employees, too, as Frontline Community Support workers. Many of our staff members have received their vaccines, and more are continuing to do so each day. The clinics for our seniors and our staff are allowing us to see the light at the end of the tunnel, and we are fortunate to have these opportunities. Our greatest thanks are to the state of Nevada and Clark County, our local government representatives, community partners, and of course, our amazing donors. We could not do this without you!