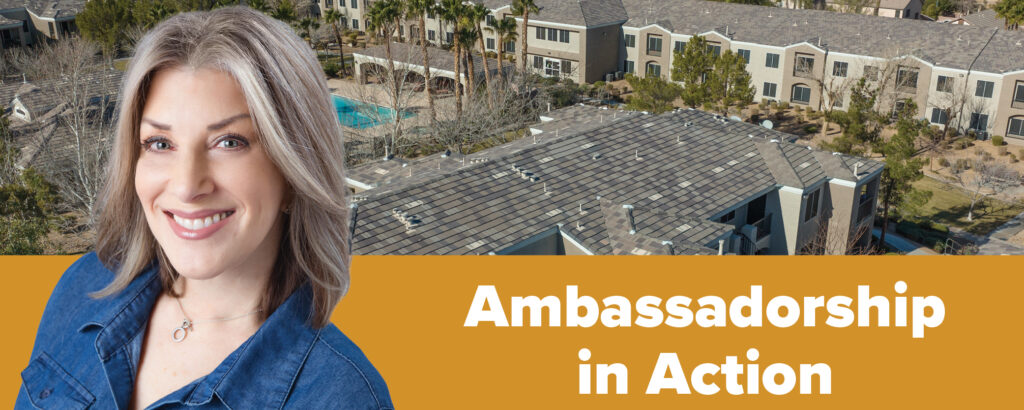 "You'll be surprised how many people are open to the idea of partnering with such a great nonprofit organization. The issue of affordable housing affects all of us somehow, in some way. We're all connected." – Jill Lamonte
Five questions with: Jill Lamonte, long-time Nevadan, Berkshire Hathaway Realtor, HAND Collaborative Emerging Leaders Board Member, and Nevada HAND Board Advisor
How did you originally connect with Nevada HAND, and what inspired you to engage further?
My fiancé invited me to lunch with a gentleman named Wally [Waldon Swenson, Nevada HAND's VP of Corporate Affairs], and when I heard about your mission, it was an instant connection for me. Housing and affordability are a big thing in my world, and in my many years in Southern Nevada, I have seen a significant increase in the need for affordable housing.  
After a few months of great initial conversations, I was invited to become a Board Advisor [individuals who have unique expertise to offer and join select Nevada HAND Board of Directors meetings in a non-voting role] came up, and I gladly accepted. I feel I am a small voice in a great group of people, and I am able to offer insight from my experience working with home buyers, residents, and other community members. At my first Board meeting, one thing that really struck me was the cohesiveness of the group, the way the different departments are so aligned, and how it all comes together with everyone in the room. And when the opportunity to join the first "class" of HAND Collaborative Emerging Leaders Board came up, it felt like a natural extension of my interest in learning more and partnering with others to support Nevada HAND.  
How do you see ambassadorship and advocacy coming up in "real life"? 
For me the ambassadorship started well before my "official" roles as Board Advisor and HAND Collaborative member. Since learning more about Nevada HAND, any time I have a conversation with someone – from my family to new acquaintances – I enjoy sharing what I have learned about the need for affordable housing in our state and Nevada HAND's work to help address the housing crisis. I find that people usually want to learn more, and I'm even discovering connections I didn't expect. For example, one of my current clients is a former Nevada HAND employee, which I would never have known if I hadn't been sharing my connection with the organization! 
We understand you are helping develop an exciting new community partnership to benefit Nevada HAND. Could you share how that idea began?
Getting involved with Nevada HAND has really been an opportunity to partner with like-minded people (like my fellow realtors at Berkshire Hathaway) who are concerned about getting people into homes. My initial idea for partnership was offering lending and other home-buying classes for Nevada HAND residents. I brought Ira Stark, our Business Development Manager at Berkshire Hathaway, into my conversations with Wally and the fundraising team, and it blossomed from there. We started asking "why not go bigger?" About nine months later, we had outlined an idea for Berkshire realtors to formally support Nevada HAND! We are continuing conversations to define the partnership, and I am so happy to know that many of my colleagues are already excited about how they can continue their investment in our Las Vegas community by supporting Nevada HAND's work.  
What a fun year to come on board! Our first meetings were so excellent and engaged, and we already have great cohesiveness and comfort as a group. It's clear my fellow members want to learn and participate. I'm excited to brainstorm together to come up with specific areas of focus and design a plan for how to meet tangible goals together. We can be those active people who really make things happen. 
How would you advise someone else hoping to create new connections in support of Nevada HAND's mission? 
You never know what might be possible until you start the conversation. Find a connection, the right person to talk with, and start thinking creatively about how you might mutually benefit from a partnership. You'll be surprised how many people are open to the idea of partnering with such a great nonprofit organization. The need for affordable housing is something almost everyone can relate to; it impacts our economy and our neighbors. This issue affects all of us somehow, in some way. We're all connected. What Nevada HAND does is really for the betterment of our entire community.