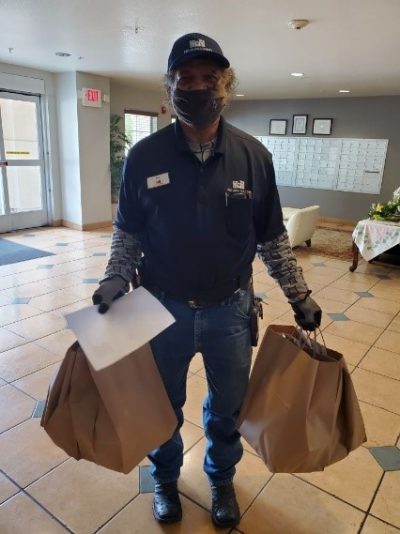 The COVID-19 outbreak has impacted thousands of residents in Nevada and millions of people across the globe, but with every crisis, there are teams of helpers prepared to provide assistance to those who need it most.
Nevada HAND serves more 7,600 residents in Southern Nevada, many of whom have been affected by the recent economic downturn. In our family communities, some of our residents are facing unemployment and a significant reduction of their working hours. Many of our resident children are adapting to distance education. In our senior communities, some of our residents are facing food stability challenges, as well as general anxiety about having to go out to fulfill their needs, leaving them vulnerable to illness. In response to this, Nevada HAND has teamed up with local organizations and leaders to provide food programming for our seniors in need.
In March, local philanthropists, Clark County officials, community organizations, and local restaurants developed the Delivering with Dignity program, a door-to-door meal delivery service for senior residents in need. The Delivering with Dignity program has donated hundreds of meals to seniors, including over 150 of Nevada HAND's independent senior residents. Our site teams delivered the meals directly to our residents' front doors, and the residents expressed their gratitude for this program. Delivering with Dignity has made an impact on our community, and we are grateful that our residents can benefit from this program during this time.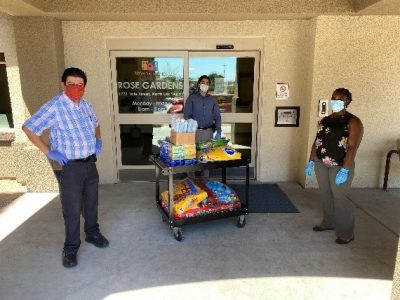 On March 30, the City of North Las Vegas' Councilman Isaac Barron and the North Las Vegas Police Department delivered groceries, provided courtesy of Burke Construction, to some of our residents at Rose Gardens. Access to food has been one of the most pressing matters for our residents during this time, as grocery stores shelves remained empty for several weeks and general anxiety sometimes prevents seniors from leaving their homes.
"Councilman Barron has been a constant support for the residents and has built lasting relationships with them," Rose Gardens Resident Services Coordinator Mayen Akpan said. "He has consistently thought outside of the box to provide resources for the residents. The residents have extended a warm welcome for him to stop by Rose Gardens and join us for future events."
Councilman Barron's dedication to our Rose Gardens community continued in April when he delivered pet food and face masks to our residents. His involvement with Nevada HAND has supported our residents tremendously, and we appreciate his dedication to the health and safety of our community.
"I learned that several of the residents, among our valley's most vulnerable, had needs that I and the City of North Las Vegas could help with," North Las Vegas Councilman Barron said. "Although these are very difficult economic and social times, I urge everyone to observe the Shelter in Place protocols: Stay home for Nevada to support our medical workers and first responders.  Protect yourself, and your families, and remember our most vulnerable residents."
Rose Gardens residents were also able to take advantage of free COVID-19 testing from the Southern Nevada Health District and the City of North Las Vegas, including Councilman Barron and Councilwoman Pamela Goynes-Brown, helping our residents stay safe and in-the-know, from the comfort of their home.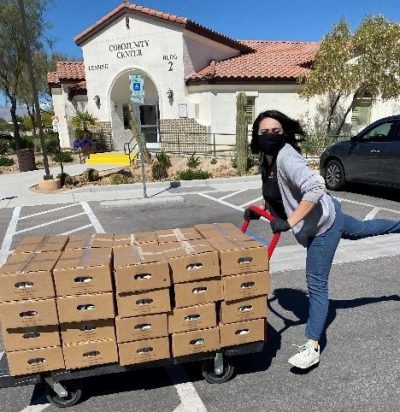 At the beginning of April, we joined forces with our partner Three Square Food Bank to facilitate the expansion of their Golden Groceries program. Golden Groceries provides seniors in need with a variety of shelf-stable food, produce, and other staples to prevent food instability and alleviate the financial burden of keeping healthy foods in the home. Thanks to the generosity of an anonymous donor, we were able to expand the Golden Groceries program to each of our independent senior communities not already served by one our food pantries. Rhea Arzadon, Nevada HAND's Strategic Initiatives Project Manager, has been very involved in food programming for our residents, and she has worked closely with Three Square to facilitate deliveries at multiple communities each week.
"The Golden Groceries deliveries were a heart-warming success," Rhea said. "All volunteers were motivated and ready to serve our residents. It's moments like this when you are reminded how much of an impact each and every one of us has on our residents. Nevada HAND and our residents are a huge family that protects and supports each other, especially when it's needed the most."
Amanda Thorpe, Nevada HAND's Executive Assistant, has been instrumental in the execution of Golden Groceries deliveries. Thorpe is responsible for organizing our staff volunteer groups for each community. Plus, she has been onsite each week to help Team HAND distribute groceries to residents.
"It has been a pleasure to be able to help organize this amazing donation! I have been at four deliveries so far, and they have all gone so well," Amanda said. "Our team working together to get food to our senior residents has been a sight to see, and I am so proud to be part of it!"
As Team HAND is onsite delivering Golden Groceries, many residents have thanked our staff with cards, fun photos, and other ways, helping our team to connect with our residents and ensure they have their needs met.
With stay at home directives in place, our team will continue to connect vulnerable residents with the resources they need to live well. Golden Groceries deliveries will continue in coming weeks, and Team HAND will continue supporting our residents with referrals to community programs and resources that can help them through these difficult times – resources like rental assistance, utility assistance, rent repayment programs, unemployment assistance, educational resources, health and wellness programming, and more.  We thank our community partners, donors, and kind locals for their generosity and support as we battle this pandemic – we will move forward together.
For more information on the Delivering with Dignity program, click here or find Delivering with Dignity on Facebook, Instagram, and Twitter.
For more information on the Golden Groceries program, click here or contact Three Square Food Bank.