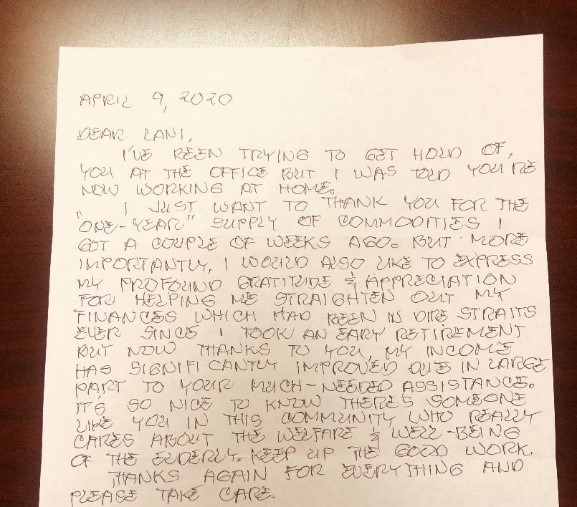 Nevada HAND communities are home to about 7,600 residents in Southern Nevada, many of whom who have been greatly affected by the COVID-19 pandemic. Our teams have been working around the clock to connect residents with crucial financial, educational, and medical resources.
Our senior residents are included in one of the most vulnerable populations to COVID-19 due to underlying health conditions and age. Many seniors have stayed home to avoid contact with others, which sometimes can limit their access to resources.
To help our senior residents, our Resident Services team has helped deliver groceries, connect them with critical resources in our community, and check in with them to ensure they don't feel isolated and have everything they need.
Recently, one of our residents wrote the following letter to our Resident Services Coordinator Lani:
"Dear Lani,

I've been trying to get hold of you at the office, but I was told you're now working at home.

I just want to thank you for the … supply of commodities I got a couple of weeks ago. But more importantly, I would also like to express my profound gratitude and appreciation for helping me straighten out my finances, which had been in dire straits ever since I took an early retirement. But now thanks to you, my income has significantly improved due in large part to your much-needed assistance. It's so nice to know there's someone like you in this community who really cares about the welfare and well-being of the elderly. Keep up the good work.

Thanks again for everything and please take care."
Our team is honored to receive letters from our residents and grateful to make a difference in our communities. We will continue to monitor the well-being of our residents and be creative in addressing our residents' needs during these unprecedented times. In doing so, we continue to carry out of our mission of creating opportunities to live well.